Welcome back to Botanical Benefits with Vorda! We have previously introduced to you the botanical benefits of our Passion and Zen blends, with ingredients such as lavender, geranium, and lemon, as well as frankincense, ho wood, and sandalwood. As mentioned, essential oils capture the essence of a plant and they are highly regarded as a form of alternative medicine for the mind and body. This time, lets take a look at some more botanicals in the world of essential oils that you can use for your health and well-being!
Zest Blend – Eucalyptus, Spearmint, Lime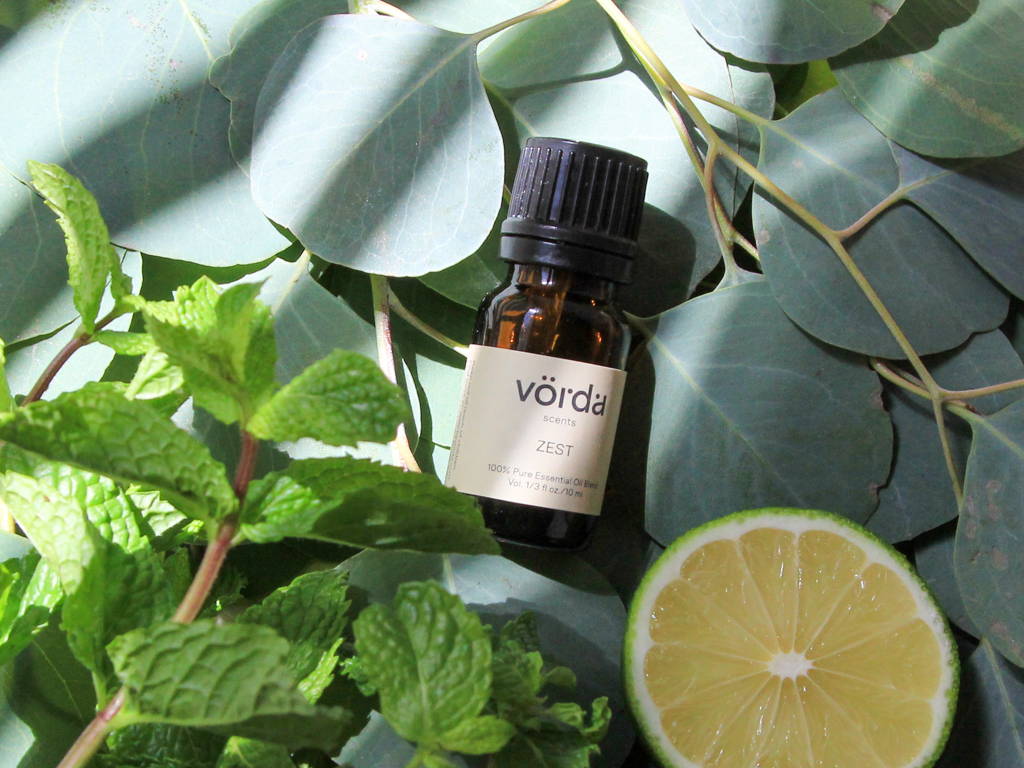 Bring your mind to clarity with Zest's brightening aromas of Eucalyptus, Spearmint, and fresh Lime. This refreshing blend is ideal for promoting focus and relaxation while uplifting your mood.
Native to Australia, the eucalyptus trees are treasured for their medicinal properties. Their healing powers come from its essential oil, which is retrieved through drying, crushing, and distilling of the leaves.
One of the most well-known benefits of this plant is its ability to clear your chest and make breathing much easier. The scent of eucalyptus is minty fresh; inhaling vapors with eucalyptus essential oil loosens mucus and relieves coughs by relaxing mucous membranes. Diffuse some eucalyptus oil is a great way to rejuvenate your lungs after a long day of being in poor air quality.
Spearmint essential oil is obtained through steam distillation of the spearmint plant's flowering tops. Its essence has a relaxing and cooling effect on the brain, which helps clear headaches and uplift your mood. This oil is great for alleviating stress and promoting focus when you need to concentrate. It stimulates secretion of hormones and enzymes that promote nerve and brain function, which in turn relieves stress and anxiety.
Another great benefit of this oil is that it has antiseptic and antibacterial properties, which makes it a good disinfectant. It also has anti-inflammatory and decongestant properties which are great help for making breathing easier.
Pure lime essential oil is extracted by cold pressing of the fruit's dried peels. The essence of lime is commonly used for promoting digestive health, immunity, respiratory function, as well as uplifting mood when diffused in the air due to its refreshing aroma.
Lime, like many citruses, is full of antioxidants that promote immune health. It also contains anti-inflammatory, antibacterial, and antiseptic properties that make it a very effective disinfectant. It is great to add a drop or two into areas in your home like inside a refrigerator to reduce bacterial growth, as well as making it smell lime fresh!
Comfort Blend – Marjoram, Pine, Lemon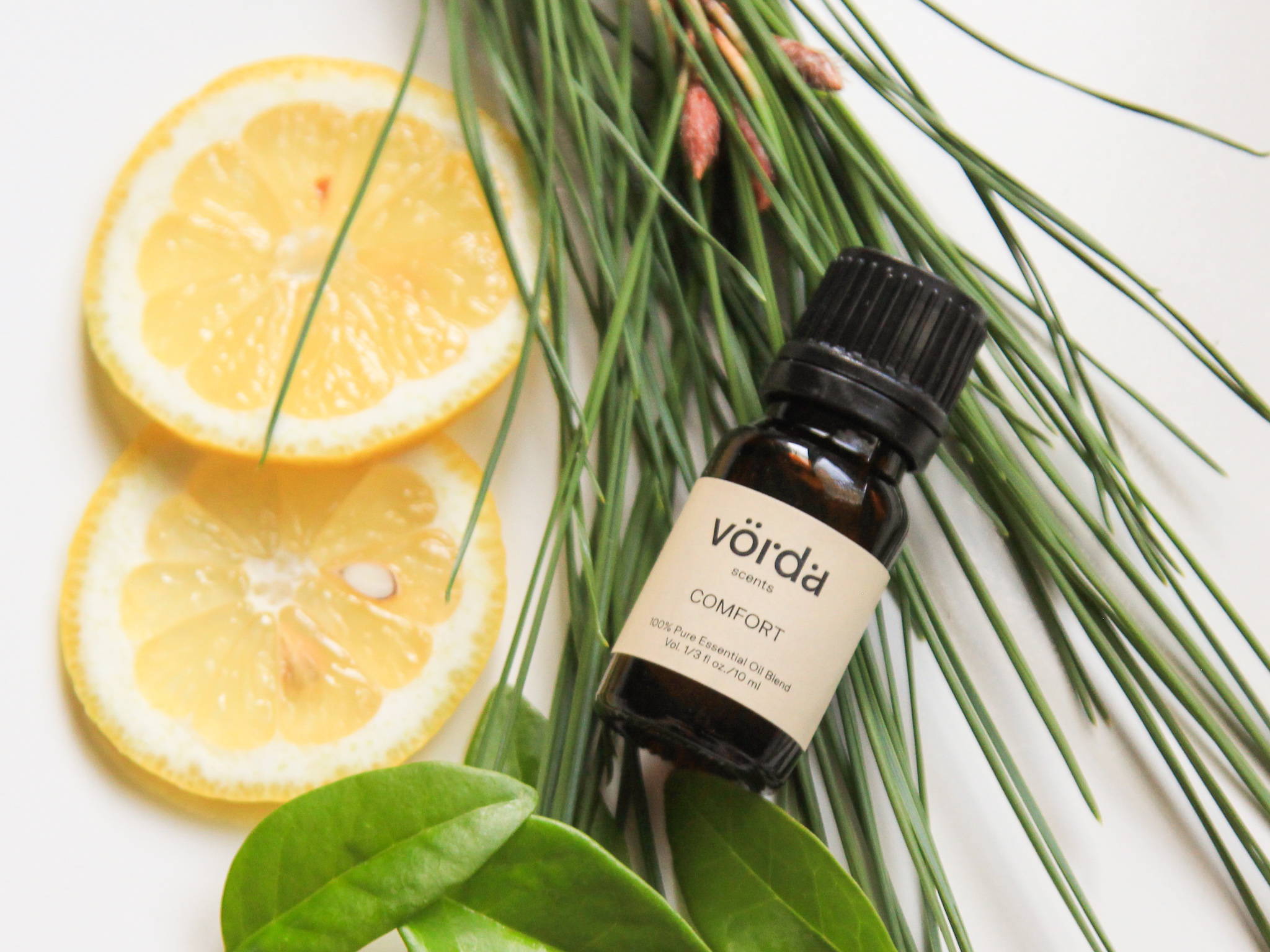 Be one with tranquility with Comfort's earthy aromas of Marjoram and Pine combined with fresh Lemon. The sweet woody scents with hints of citrus is perfectly crafted for unwinding and relaxing after a long day.
The essence of marjoram is obtained through steam distillation of the plant's leaves. Native to the Mediterranean, this plant is long cherished as the "happiness herb" or the "joy of the mountains" as its oil is used to treat many ailments.
On top of being a great aid for alleviating headaches and other bodily pains, inhaling its woodsy and spicy scent improves cognitive abilities and keeps your mind sharp. Marjoram oil is also considered to be a sedative, as its woodsy aroma relieves nervous tension by calming and relaxing your body.
One sniff of this beautifully refreshing essential oil will bring on feelings of a frosty winter morning. The essence of this tree is obtained through steam distillation of its pine needles and is valued for its soothing aroma and restorative properties.
Pine essential oil can help reduce allergy symptoms due to its ability to decrease sensitivity of immune cells causing inflammation. Breathing in vapors with pine essence makes breathing smoother and easier. The oil also helps stimulate production of neurotransmitters, which is a natural remedy for decreasing depression and anxiety symptoms.
Citrus plants are among the most benefit-rich essential oil sources, with their many uses in food and medicine, as well as cosmetics. Lemon essential oil is one of the most popular in the citrus category due to its versatility and strong antioxidizing properties. It comes from cold pressing of the lemon peel, the portion of the fruit with the most nutrients.
This invigorating fruit is loaded with benefits and is highly regarded for its ability for purify the body from toxins. Lemon essential oil is also used as a natural cleaner to helps remove unpleasant odors. Its vibrant and light aromas rejuvenate energy and gives a feeling of crisp freshness that delights all.
Bring forth happiness and wellness with ingredients that our beautiful earth has to offer. Improve the health of your body, mind, and spirit with the ancient practice of aromatherapy!